Order a Kindle copy of Tim from Amazon.com for $2.99
Order a Paperback copy of Tim from Amazon for $8.50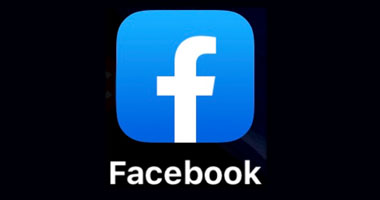 Tim Facebook Page
Click Here to Follow Timothy H. O'Sullivan on Facebook for updates and book reviews.
The Setting: New York — September, 1850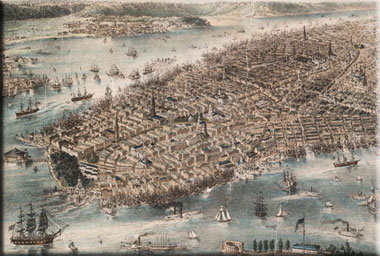 Tim is a ten-year-old boy from sleepy Staten Island who is told he must apprentice at Mathew Brady's studio on Broadway in 1850.
Souvenir of New York, 1851,
by John Bornet
Courtesy of the New York Public Library
---
Brady's Broadway Gallery at Fulton Street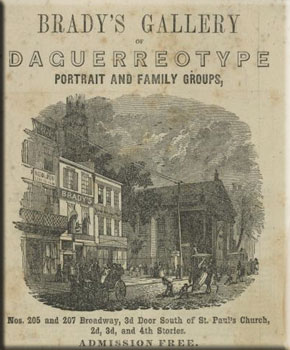 Brady of Broadway — Tim is sent to work at Mathew Brady's Daguerreotype Gallery on the corner of Broadway and Fulton Street. Brady is one of the pioneers in photography who studied the daguerreotype process under Samuel F.S.B. Morse.
An advertisement for Brady's Gallery
Courtesy of the New York Public Library
---
Barnum's American Museum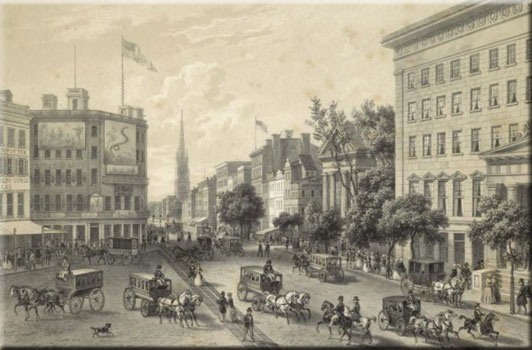 Across from Brady's Gallery is Barnum's Museum. Jenny Lind is the most sought-after celebrity by all the Broadway photographers, except that her manager, P.T. Barnum, will not grant Brady access to the Swedish Nightingale.
Broad-Way, New York, 1850, by August Köllner.
Courtesy of the New York Public Library
---